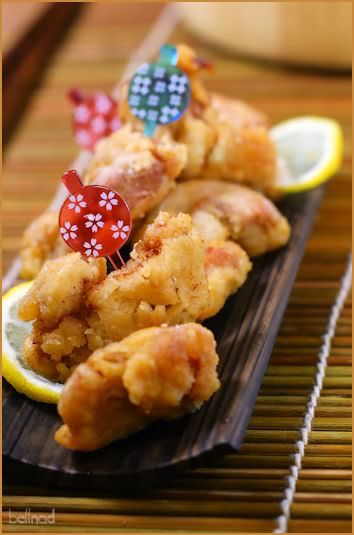 I always make double set of bento in the morning, doesn't take much time as long as things well organized. I prepared karaage chicken the day before, coat with flour and keep on chiller. While waiting for oil in frypan ready, I washed the fruit and baby tree, that's my term of broccoli.
For lil one I kept chicken separate from the bread, so chicken will stay fresh until she ready to eat .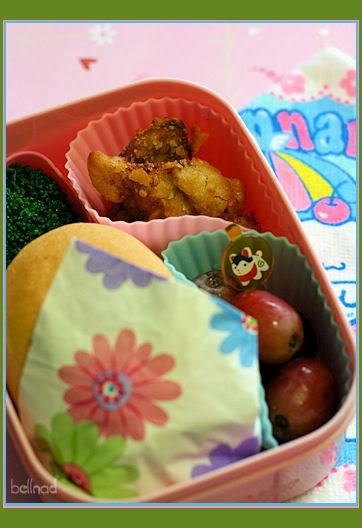 Here's for my bigger girl, she picked her own chick food pick. Accompanied with tzatziki dip.
And this post goes as my entry of wholesome lunchbox, hosted by Coffee and Vanilla.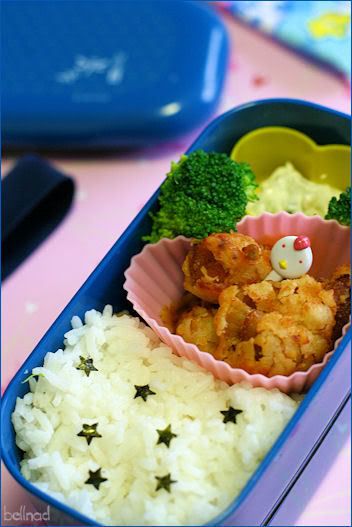 And now..... recipe...

This is a non alcohol version of karaage

ingredients:
Marinate:
500 maryland fillet (thigh fillet) skin off, striped
4 tbs kikkoman souce (self brew has no alcohol contain)
1 tbs lime juice
1/2 sugar
tiny bit of salt
2 cloves of garlic grated
1 tsp grated ginger

for coating, prepare in a plastic bag
2/3 cup corn starch
1/2 tsp salt
1/2 tsp pepper

Oil for deep fry

method:
Marinate the first ingredients above about 1 hour or so.

After marinate put the chicken strips in a plastic with flour mixture, shake until completely coated , you can just straight fry it, but it will leave mess on the oil. I prefer leave it for about 10 minutes before fry it.

Heat the oil and deep-fry the chicken pieces for 4-5 minutes or until a golden brown