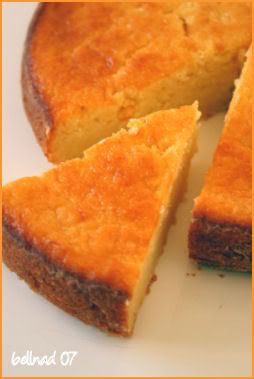 This cake is not as simple as it looks.
It's moist, rich and dense cake
. The lemon flavor really bursts from the cake
. No wonder my family like it.
Lemon Ricotta Cake
175g softened butter
175g caster sugar
3 lemons, zested
3 eggs, separated
250g ricotta cheese
125g self-raising flour
1 tsp baking powder
Heat the oven to 180C/fan 160C/gas 4. Butter and flour an 18cm spring-form cake tin.
Beat the butter and sugar with an electric whisk until light and fluffy then beat in the zest, yolks and ricotta.
Whisk the egg whites to stiff peaks, then fold into the ricotta mixture.
Fold in the flour and baking powder then spoon the mixture into the tin. Bake for 35 minutes until risen, firm and golden in colour.
Cool for an hour in the tin.
Recipe taken from olive magazine, April 2006.