Tadinya mo bikin Barbie dengan baju motif garis-garis (stripy) apa daya mentega putih yang aku pakek masih bergerindil, jadi selalu ngebuntu ujung spuit, duh.. gemeesss... deh , padahal sudah dikocok lama. Apalagi spuit yang dipakek spuit nomor 2, jadi emang kecil banget keluarnya.
Akhirnya, ya sutra... ganti siasat. Pakek drop flowers yang udah aku bikin semalem sebelomnya pakek royal icing. And here we go... Barbie in spring dress.
Apapun model baju Barbie gak masalah yang penting Nadia, my lil daughter, happy... ama barbie cakenya.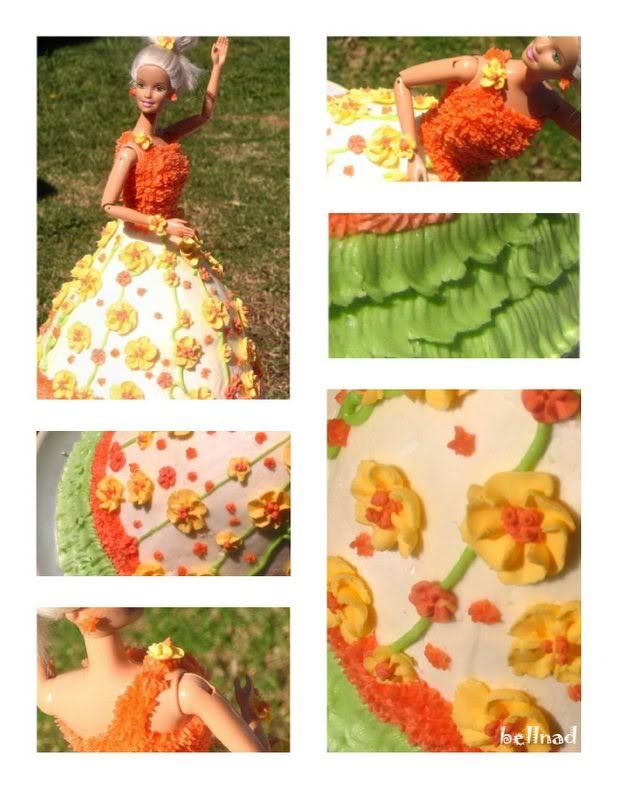 Info spuit/tips :
Drop flowers
: Wilton 2D (bunga besar), Wilton 225 (bunga kecil)
Apple blossoms
: Wilton 104
Renda : Ateco 117
Baju atasan barbie : Wilton 16 (bintang)
Sekalian ngucapin Selamat Berpuasa....
May Allah accept our good deeds and Ramadan Mubarak !