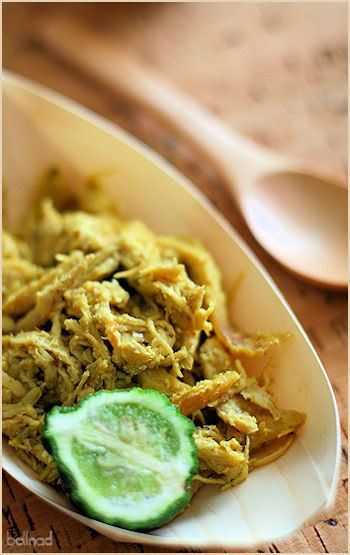 I'm compiling my recipes which goes to
girls lunch box
. while preparing for dinner it'll be nice to have some extra on the freezer, simply timesaver for the "get ready routine" in the morning. Here's one of them, Ayam Pelalah, or Pelalah Chicken.


Ayam Pelalah is Balinese gourmet of shredded chicken cooked in yellow spice, lime and chili. The steps involved barbecuing method to get the original taste. With unfriendly weather I made a shortcut with my own way. Cook in simmering pot with salt and kaffir lime leaves, before adding spice paste. It still has delicate flavors, really !
You can add up more chillies to get the whole package of sensation. Since my girls can't handle this kinda hot, so today I skip this. Anyway I prepared the sambal, the authentic Asian hot chili sauce
on dinner, for the grown up.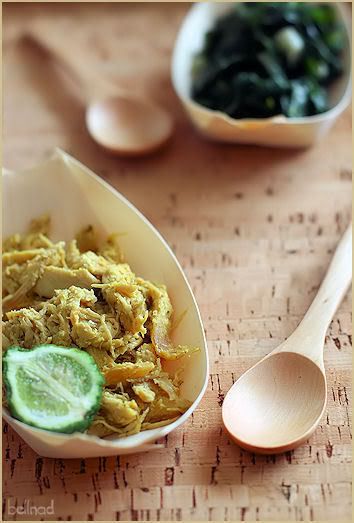 Here is the recipe:
Ayam Pelalah
(Click for Bahasa version)
500 gr breast fillet skin off
3 pc kaffir lime leaves
100 ml Chicken broth
1 stalk of big size of lemongrass stems bruised and chopped into 4 pieces
1 slice greater
galangal (laos)
1 slice lesser galangal (kencur, I used powder)
2 long red chillies sliced ( I skipped this today)
1/4 cup of lemon juice
Spice paste:
7 shallot or 1 medium brown onion
5 cloves of garlic
7 pc of candle nut
1/2 tsp turmeric
1 medium size of tomato, diced
3 tsp sugar
salt to taste
In medium pan simmer breast fillet with salt and kaffir lime leaves, with water just enough to cover chicken. After cooked through reserve the broth and shred meat with fork.
In a frying pan, saute spice paste over moderate heat, add remaining ingredients stirring often until fragrant. Add shredded chicken and 100 ml broth, turn the heat low. Stir occasionally until all liquid absorbed.
@bellnad