Finally I found the right peanut cookie's recipe that I was looking for. This delicate cookie has the whole peanut flavour without giving disturbed by other flavours. it's just right, peanut !
I cut the dough using bottom of cake decorating nozzle ( always press on the flour before cutting the dough) When it came out it shaped like a dome. There was a bit of incident though, I forgot to check the oven temperature when I start baking it, it's too hot for this cookie, and there's slightly crack on the top. Otherwise this cookie it just perfect.
I got the recipe from fellow Multiply, Dewi Joris. Thanks Dew !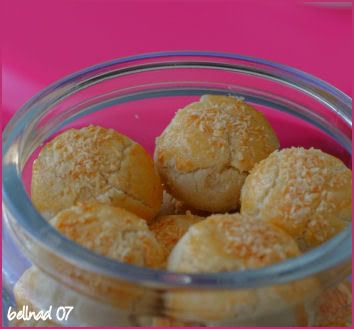 Peanut Cookies

Ingredients: (half the original recipe)
500 gr flour
250 gr confectioner's sugar/icing sugar
250 gr oil ( I was using peanut oil)
250 gr ground peanut (toss whole peanut, after cooled for awhile rub with your hands, to peel the skin off, and grind)
1 tbs vanilla extract or powder
yolk for brushing

Directions:
Mix all dry ingredients flour, sugar, ground peanut, and vanilla powder. Pour in oil mix well.
Roll out into lightly flour board to 1 cm thickness, cut into desire shapes. Brush with egg yolk. Bake on very lightly greased baking sheet in 170 degrees for 10-15 minutes